2022-2023 OPEN HOUSE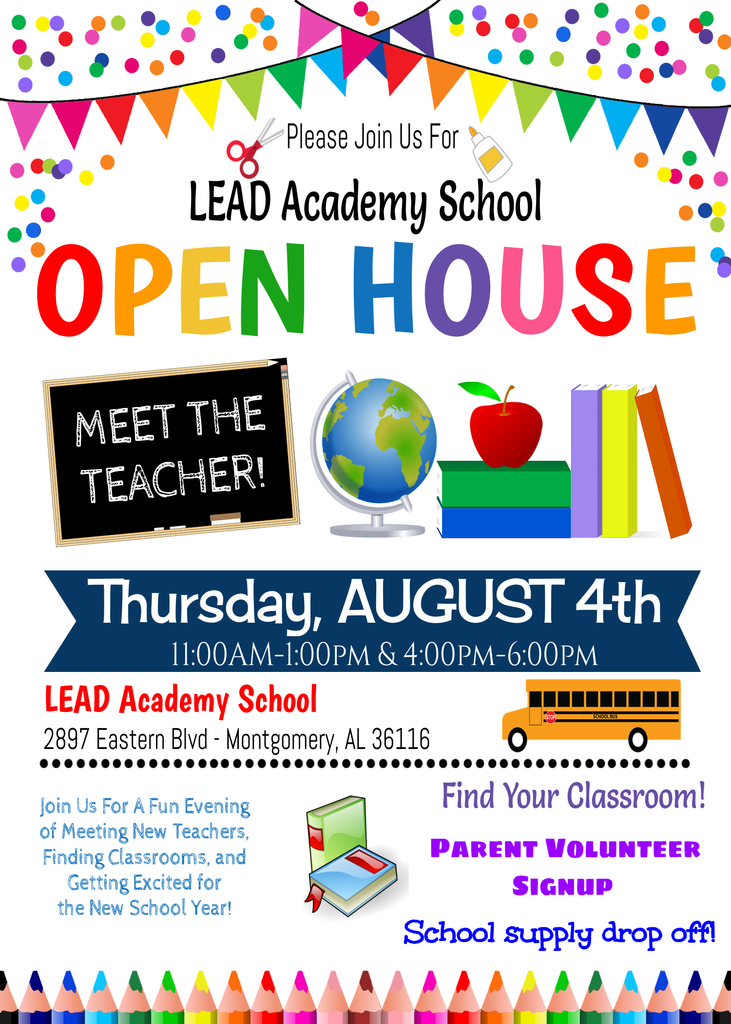 Acceptance into a First Class Pre-K program is strictly through random drawing. Parent/Guardian does not have to be present at drawing. Email notices of acceptance status will be sent in mid-April. Random Drawing Details for LEAD Academy: Date: March 28, 2022 Time: 9:00A.M. Location: Library Please visit:
https://prek.alaceed.alabama.gov/

NEW STUDENT ENROLLMENT 2022-23 We are now accepting enrollment applications for the 2022-2023 school year. Current students DO NOT need to fill out this form. Linked below are the registration forms for the 2022-23 school year. Please complete all information; you are taking the first step to enroll your child for the upcoming school year for grades K-8. You will be notified by the end of April or sooner if your family has a spot for next year. Once one child is accepted, we make every attempt to offer a spot to any other child in the same household who is eligible for a grade that we offer. If more students apply than we have space for, we will hold a blind lottery to select scholars. If you have any questions, please feel free to contact the school at 334.451.3127. Kindergarten Registration 2022-2023 >>>
https://forms.gle/2Se5mM54RY6ty8SX7
First through Eighth Grade Registration 2022-2023 >>>
https://forms.gle/mo8EyTvazDnqbWYz5
Happy Thursday! LEAD Academy administrative team has decided to shift to virtual learning beginning tomorrow Friday, January 14, 2022. Scholars are expected to return on Monday, January 24, 2022. This decision was made because of the number of ill staff members who cannot report to work. Luckily our scholars have remained healthy and safe while at school. As always, if you have any questions or concerns, please let me know.

Did you know that charter schools like LEAD Academy are tuition-free? That means anyone is able to attend, regardless of income! #LEADingtheway

This month marks the 28th annual observance of School Board Member Recognition Month in Alabama! We're so grateful for our board's dedication and commitment to high-quality public education. #LEADingtheway

Our the next few months as we develop our new website, we'll also be releasing a new App!

We are excited to be designing a new website! Stay tuned for updates!